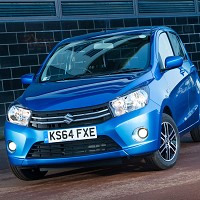 A Japanese car giant is recalling its new hatchback in the UK and three other countries - only days after it went on sale.
The temporary suspension of sales also means those currently contemplating buying a car from Suzuki will have to wait a little longer to land the new Celerio.
A braking fault has caused the Hamamatsu-based manufacturer to suspend sales of the vehicle, which has only been available to buy in UK showrooms since the weekend.
Luckily, just 100 cars have been sold here so far. These owners have been advised to leave their Celerios in the garage and await contact from Suzuki, which will give them makeshift replacements.
New Zealand, Australia and Ireland are the other countries affected. Suzuki said it is investigating the problem.
The glitch was discovered in two vehicles during trade press tests at Bedford's Millbrook proving centre.
The problem pertains to the brake pedal's retraction, with the trial car's brake application causing all stopping power to be instantly lost. The test driver involved said the brakes became stuck when totally depressed and did not affect the car's speed.
Copyright Press Association 2015