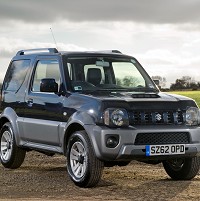 New styling improvements to the high-selling Jimny compact 4x4 have been revealed by Suzuki.
There are currently 20,000 owners of the model with car insurance in Britain and Suzuki plans to update the vehicle's appearance while keeping the basics the same.
New stylistic changes will see a new bumper and grille to the front, a new bonnet shape that features a central air intake and a modification of the front fog lamps.
As a result of the new front bumper, the total length of the vehicle has risen by 30mm to 3,675mm, although this still makes the Jimny the most compact SUV available in Britain.
The interior design has also been modified, with the SZ3 seeing a new seat fabric trim, while the SZ3 and SZ4 both boast new front and back headrests and ISOFIX child seat mountings on the back seats.
Included in the choice of four metallic paint finishes for the higher spec SZ4 version is now Breeze Blue.
The £399 option of metallic paint will include three choices along with one solid colour for the SZ3 model.
Copyright Press Association 2012