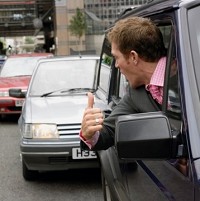 A new survey showing that road rage can cause drivers to be distracted by their anger has been published.
The study by Motors.co.uk polled 2,300 UK adults and revealed that over half said that they had been a direct victim of another driver's short temper; potentially resulting in a car insurance claim which could be avoided.
One quarter of drivers admitted to reacting to this annoyance and said that they had manoeuvred their vehicle to take revenge, while over 40% said that they had used profanities to express their anger towards others.
Phil Jones, the commercial director of Motors.co.uk, said: "Congested roads, together with our high-pressure lives, are causing us emotional distress when driving.
"This is compounded further by the increasing pressures on the driver's purse. The joy of driving is disappearing."
Scotland and Wales were found to have the most stressed drivers and 44% of everyone polled admitted that they are generally quite stressed on any given day.
Sometimes drivers' stress levels can allow scenarios to get blown out of proportion with 6% admitting to punching their car interiors, 2% bursting into tears and 1% actually leaving their vehicle to fight with another driver.
Copyright Press Association 2012