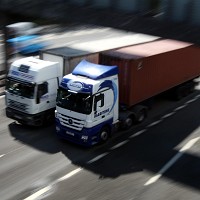 Motorway accidents involving foreign heavy goods vehicles (HGVs) have risen dramatically in a short space of time.
New data published by Accident Exchange suggests a 14% increase since 2012, as more overseas truckers fall foul of British roads.
Polish trucks are the most likely to be involved in a collision, followed by those from Germany and Spain.
The company extrapolated its own figures within the scale of known crash statistics, to put the issue into context.
It estimates that there are in the region of 1,060 motorway crashes involving foreign HGVs every year - a third of the total estimate of 3,100 - with the M25 accounting for almost 21% of motorway smashes.
The M6 and M1, on the other hand, represent around 7% each.
But it is not just motorways where accidents occur. Cities and town centres account for 37% of all accidents involving overseas trucks .
Liz Fisher, Director of Sales Development at Accident Exchange, describes the findings as worrying. She claims a HGV in unfamiliar territory can be a danger to other road users, especially drivers of smaller vehicles.
Getting caught in the blind spot of a lorry that is changing lanes is a common accident involving cars that can have serious consequences, while being rear-ended by a much bigger, heavier vehicle is also common.
Accident Exchange handled 110,000 collisions between 2012 and 2014. It is urging all motorists to drive with safety and vigilance in mind at all times, in a bid to reduce the number of accidents.
Polish trucks were present in 15.7% of cases analysed, while German lorries accounted for a similar proportion with 13.1%. Spanish waggons were the third-most accident prone, being involved in 6.1% of foreign HGV-related accidents.
Copyright Press Association 2015