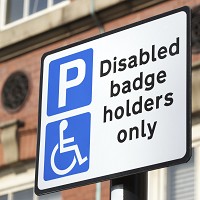 Thefts of blue disabled parking badges have more than doubled in a year, Government data shows.
A total of 1,756 badges were stolen in England in 2013/14 - a rise of 167% on 2012/13 when there were 656 thefts, according to the Department for Transport.
More than 2.5 million disabled people in the UK currently hold blue badges issued by local authorities. They permit motorists to park for free in pay and display bays and park in disabled zones.
In London, blue badge holders are also exempt from the congestion charge, saving them around £2,500 a year.
Thieves sell stolen badges on the black market or use them to get free parking, according to the Local Government Association (LGA), which represents councils.
The LGA estimates that a blue badge can save drivers more than £6,000 a year in parking fees, which is why they are so valuable to dishonest criminals.
Peter Fleming, deputy chairman of the LGA, calls the rise in theft "alarming" and says callous thieves are robbing disabled people of their independence.
He finds it "staggering" that some people are prepared to stoop so low just to con a few hours of free parking.
People who misuse a blue badge can be fined up to £1,000. Last year, local councils in England and Wales successfully prosecuted 565 people. In Scotland, there has also been a clampdown on blue badge abusers.
Andy Cole, of disability charity Leonard Cheshire Disability, says blue badges are a lifeline for millions of disabled people to ensure they can maintain their independence.
He welcomes the increased focus on identifying and prosecuting blue badge abusers, adding that it is "shocking that some people steal or feel that it is acceptable to misuse the badges".
Among those entitled to a blue badge are people who are registered blind or have a disability that limits their mobility, as well as drivers with a severe disability in both arms.
Copyright Press Association 2015