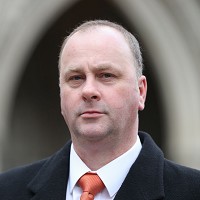 A chip shop owner fined £85 by a private car park operator has taken his case to the highest court in the land.
Barry Beavis was sent a penalty notice by ParkingEye after overstaying a two-hour free parking limit by 56 minutes at a site next to Chelmsford railway station.
He claims the charge is unfair, disproportionate and legally unenforceable, and is challenging it at the Supreme Court.
Seven of the most senior judges in England and Wales are examining his case, which could have huge implications for the private parking industry if his efforts to have the charge ruled illegal are successful.
It could potentially open the floodgates for thousands of drivers to reclaim charges imposed on them.
Earlier this year the Court of Appeal rejected Mr Beavis's case, stating the penalty was ' not extravagant '.
The chippy says he is confident the Supreme Court will overturn the decision as the parking charge is "totally unfair and should be thrown out".
He is calling on the Government to regulate the private parking industry as it "needs to change to better serve the motorist".
Mr Beavis, who is also volunteering his services to the Government as a parking tsar, is being represented by London-based legal firm Harcus Sinclair on a pro bono basis.
The company believes the case is of national importance both legally and financially.
Lawyer Henry Hickman, from the firm, says it is a "vindication of the English civil justice system" that a case involving someone who has been issued with a "disproportionate" parking penalty charge by a private parking company is being heard by the highest court in the land.
He adds that motorists are being charged millions of pounds a year in parking penalties by private parking companies and this Supreme Court ruling will affect millions of motorists up and down the country.
A ruling is not expected until later in the year.
Copyright Press Association 2015