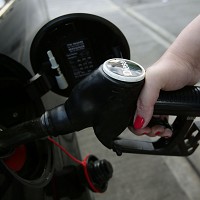 A fuel price war is brewing as all major supermarkets again slashed the cost of filling up at their pumps.
Tesco, Sainsbury's and Asda have all shaved 2p per litre off the cost of diesel and 1p off unleaded petrol, while Morrisons slashed diesel prices by 4p to around 107p a litre. It also cut its petrol prices by 1p to an average of 112p a litre.
RAC fuel spokesman Simon Williams believes it could lead to a return of £1-a-litre diesel.
"July was a bumper month for diesel vehicle drivers with the average price falling by 5p a litre, saving £3 on a fill-up," he said.
"Now August is off to a flying start with another substantial cut which will help shave another couple of pounds off a tank of diesel, just as millions of people head off on holiday by car.
'With an abundance of diesel, lower wholesale oil prices and the relatively strong pound against the dollar, there is a real prospect we will see diesel at £1 a litre.
'We would like to think that prices will now keep falling over the next few weeks as retailers pass on the savings in wholesale prices.
'At the moment, there is too much diesel being produced for the global demand, so prices should keep falling until they cut production, which hasn't happened so far.'
As ever, drivers can stay abreast of average prices with the RAC's Fuel Watch .
Tesco, the biggest fuel retailer in Britain, led the way in the most recent price cut, slashing the price of both diesel and unleaded petrol.
Sainsbury's and Asda followed suit shortly afterwards, with the latter promising motorists will pay no more than 108.7p per litre of diesel and 111.7p on unleaded petrol at its pumps as part of its cap on prices.
Other retailers are expected to announce cuts in the coming days, as the battle of the forecourts intensifies.
It is good news for motorists, especially those planning getaways in the UK this summer.
A combination of cheap oil and the pound's strong performance against the US dollar is keeping diesel and petrol prices low.
Diesel has become cheaper than petrol at garages for the first time since 2001, while the last time fuel prices were below £1 per litre was in back in 2008 following the financial crash when oil prices plummeted.
Copyright Press Association 2015