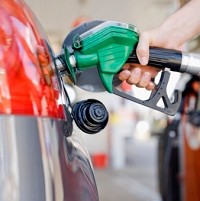 Two supermarket giants have moved to steal a festive march on their rivals by announcing fuel price cuts for the run-up to Christmas.
From today Asda is reducing the price of petrol by a penny per litre and diesel by 2p a litre. The chain says motorists will now be paying no more than 128.7p per litre for petrol and a maximum of 135.7p a litre when they fill up with diesel.
Its announcement was followed by one from Sainsbury's, which said its fuel prices would also be dropped by the same amount from today.
The price cuts represent good news for motorists after the RAC found more than three-quarters (77%) will drive, on average, 260 miles visiting family and friends this Christmas. That adds up to around four billion miles in total and numerous uses ofjourney planner tools.
David Bizley, technical director at the RAC, said: "It really is starting to look like Christmas. Not only have we persuaded the Chancellor to scrap January's 3p-a-litre fuel duty increase, but now supermarkets are making festive travel more affordable."
Copyright © Press Association 2012