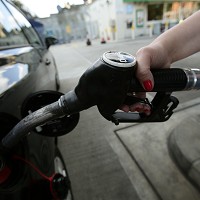 Families out and about during half-term will pay less to fill their cars, thanks to ongoing battles in the supermarket pump price war.
The opening salvo came from Asda as it announced a 2p-a-litre cut in its petrol and diesel prices from Tuesday.
Asda's decision was swiftly followed by Morrisons and Tesco announcements of similar discounts.
Petrol now costs 120.7p a litre at Asda filling stations, while a litre of diesel costs 124.7p a litre. These new prices are the lowest Asda has charged since December 2010.
The supermarket chain will keep on leading its rivals in cutting the price of fuel, according to its petrol trading director Andy Peake.
Mr Peake says Asda is well aware of the need to pass any savings it makes on the changing wholesale price of fuel to the consumer as soon as possible.
RAC fuel spokesman Simon Williams said: "This is not an unexpected cut as there is plenty of margin between wholesale and retail costs for prices to go lower still. Oil continues to be pumped way above global demand which combined with a strong pound is good news for motorists.
"We think this oversupply of oil is likely to continue for some time as it seems to be part of a larger political move to make the production of shale oil and gas in the US unaffordable due to the global low price of crude.
"This is without doubt making the major cost of motoring cheaper than it's been for well over three years. The average price of petrol was already at the 125p a litre mark and diesel 129p so the latest rounds of cuts should serve to send this much lower and produce some great value forecourt prices. As a result there should some very positive benefits for both private motorists and businesses alike."
Copyright Press Association 2014