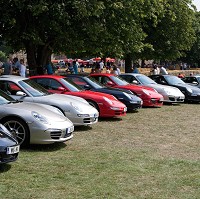 No less than 200 of the most sought-after high performance cars in the world will be on show to the public at Beaulieu's 2014 Supercar Showdown later this month.
Bank Holiday Monday falls on August 25 this year and on that day crowds are expected to flock to the beautiful parkland of the National Motor Museum.
Among the cars, fans will be able to get a close look at an Alfa Romeo 8C, a Bugatti Veyron, Ferrari 458 Speciale, Jaguar XJ220 S, Lamborghini Aventador and a McLaren 12C.
The eighth annual Showdown will feature a range of dealers and car clubs, such as the Aston Martin Owners' Club, the Ford UK Heritage collection with the Ford Supervan, the Lamborghini Owners' Club, the Meridien Group, the Morgan Motor Company, Porsche Club GB and the Westover Group.
There will be the usual Demonstration Run and visitors can take part in the People's Choice Award and select their favourite car. They can also see new On Screen Cars and World of Top Gear displays.
For more information on the event and tickets, go to www.beaulieuevents.co.uk .
Copyright Press Association 2014