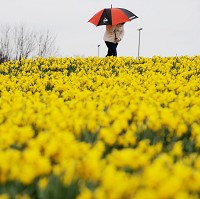 It looks like those who spent a gloomy Bank Holiday Monday on the sofa will be able to make up for it this weekend, with the sun set to show its face again.
The next 36 hours should see rain gradually ease off to bring a more pleasant Friday before a weekend of higher temperatures.
It could be but a brief respite though as a new sweep of weather is set to bring the rain back next week, although serious flooding is not expected.
MeteoGroup forecaster Sean Penston said there would only be "moderate" levels of rain, but because the water table is already high there could be surface water to watch out for.
He pointed out that the rain was failing to make an impression on temperatures, however, with 16C-18C (60.8F-64.4F) the expected highs on Wednesday in the central south east region.
The north of England is having a particularly wet day and some areas could see 20mm (0.8in) fall. There's a yellow warning from the Met Office in Yorkshire and Humber.
People there should be aware the rain could prove a risk, with North and East Yorkshire possibly in line for 30mm (1.2in) and some localised flooding causing jams.
Most of the rest of the country is also wet, and there are some flood warnings from the Environment Agency for the Midlands, south east England and Anglia.
Those warnings are of the lowest kind the agency can give - mostly about water levels on the ground near rivers - but there are 19 of them in place.
Mr Penston said it would be "largely dry" on Friday in the north but there could be more intermittent rain in the south, clearing as the weekend gets under way.
Copyright Press Association 2014