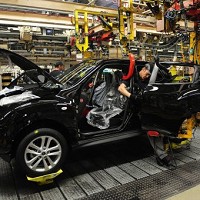 A fresh generation of Nissan Jukes will be built in Sunderland, it has been announced.
The Japanese car manufacturing giant's £100 million investment will help secure around 34,000 jobs at its existing North-East plants and among suppliers into the next decade.
Nissan also makes the Note and Qashqai at the factory, as well as the eco-friendly electric Leaf , employing 6,700 staff.
Chancellor George Osborne describes the news as "fantastic", saying that it fits with the Government's plans to create a Northern Powerhouse.
The car company says the North-East's new-gen Juke assignment is designed to keep it at the forefront of the crossover vehicle sector.
Its European design crew in two England-based Nissan units will lead the new motor's development - at London's Paddington and the Bedfordshire village of Cranfield. The latter is Nissan's European engineering base.
Paul Willcox, chairman of Nissan Europe, says that with this announcement its customers can be confident that it will remain the crossover manufacturing sector leader for several years ahead.
Mr Willcox says the news gives its Sunderland factory security going into the next decade.
The North-East workforce deserves such security through several years' hard work as well as its capacity to go on raising the quality bar, he added.
Mr Osborne says a Northern Powerhouse concept rests on capitalising on the region's strengths, such as manufacturing. He added that Nissan's announcement is a key sign that the UK is being picked as a worldwide frontrunner in vehicle production.
Copyright Press Association 2015