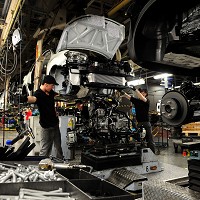 Nissan's luxury Infiniti cars will soon start rolling off the production line in Sunderland.
In 2012, the Japanese manufacturer announced it was investing £250 million in the north-eastern factory to make a small luxury car - the first time it has chosen to build an upmarket model in Europe.
Production of the Infiniti Q30 hatchback begins this week, in a move that has already created hundreds of jobs.
Sunderland is the most productive car plant in Europe, building more cars than the whole of Italy put together.
Every worker at the plant makes an average of 118 cars a year and it has been producing 500,000 cars a year - its annual capacity - since 2011. In comparison, Italy built a total of 401,317 cars in 2014.
Output is expected to increase by 60,000 with production of the Q30, which will rival cars like the Mercedes GLA, BMW 1 Series and Audi A3.
Sunderland's workforce now stands at more than 6,700. Nissan retrained 4,000 workers to help to build the new model, plus a further 1,000 additional jobs have been generated among the company's local suppliers.
Copyright Press Association 2015. Motoring News articles do not reflect the RAC's views unless clearly stated.