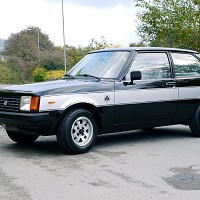 A 1980 Talbot Lotus Sunbeam goes under the hammer next month offering the best of both worlds - a classic motor that is virtually brand new.
Historic car connoisseurs in the market for buying a car at the Birmingham NEC Classic Motor Show on November 16, will find the unique Sunbeam has only clocked-up 193 miles.
The 34-year-old model is expected to fetch between £24,000 and £28,000 at Silverstone Auctions' sale.
The silver and black two-tone, left-hand drive Talbot Lotus looks like it has emerged from a time-warp, and is yet to be registered. The hot hatch was purchased as a car in a far bigger private collection and ignored.
Silverstone Auctions' Nick Whale calls the motor "immaculately preserved" and the Sunbeam with the lowest mileage on the planet.
The successful bidder will have the chance to register their new Sunbeam if they wish, as a special certificate will be issued with the car enabling them to do so.
Copyright Press Association 2014