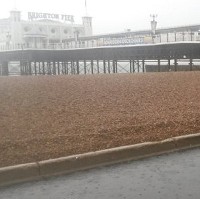 Drivers caught in "zombie apocalypse"-style flash floods can look forward to drier driving conditions in the days ahead.
Weather forecasters say motorists should expect sunny spells as authorities undergo a clear-up in the wake of Monday morning's thunder and hailstorms.
The Environment Agency removed flood warnings on Tuesday and said flooding was not expected during the next three days.
East Anglian, London and South-Eastern regions received over a fortnight's average rainfall in 60 minutes, with one train firm saying it was reminiscent of "zombie apocalypses".
Overnight substantial showers are predicted to subside on Tuesday morning as damaged tracks bring severe disruption for rail passengers.
But another wet weather burst is expected to hit the UK on Friday evening.
MeteoGroup's John Lee forecasts that this week's temperatures will not rival last week's, but will still peak at 27C (80.6F).
He added: "There will be bits and pieces of rain in the North West and Scotland, but it is not going to come to much."
Copyright Press Association 2014