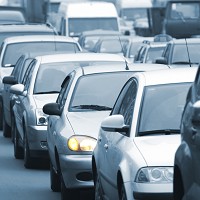 Provisional Government figures have revealed that traffic levels this summer were the lowest for more than 10 years.
The decline in the number of cars on the road has been attributed to a combination of wet weather and the distraction of the Olympic and Paralympic Games in London. Overall, motor vehicle traffic was 1% lower between July and September than the same period in 2011, according toDepartment for Transport figures.
Although there was actually a slight rise in the amount of traffic using A-roads and motorways, the amount of vehicles using other roads decreased dramatically. The statistics were the lowest recorded since the summer of 2001.
The Department for Transport said: "Reported drops in visitors to UK tourist attractions may have resulted in fewer journeys by road, contributing to the fall in traffic levels."
Urban road traffic was down by 7.9% this summer and there was also a major fall (10.8%) in the motorcycles, coaches and buses sector. Only light goods traffic bucked the general trend, with an increase of 2% recorded.
Copyright Press Association 2012