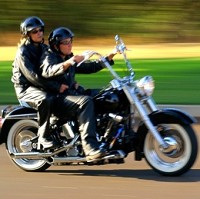 With warmer weather tempting many motorcyclists to look out their crash helmets and take to the roads again, riders are being urged to take care by police.
A set of safe riding tips has been issued by Kent Police to help motorcyclists stay safe on the roads this summer and reduce the number killed and injured.
Riders should ensure theirmotorcycle breakdown cover is up-to-date and the police safety tips include ensuring riders properly prepare themselves and their bikes and to always wear a crash helmet and protective clothing.
And they are being urged to check their brakes, steering and tyre condition before venturing onto the roads, especially if their bike has not been used for a while.
Inspector Paul Sellwood, of the roads policing unit at Kent Police, said: ''Motorcyclists can be particularly vulnerable if involved in a collision and our priority is to reduce the number killed and seriously injured on our roads.
''The motorcycling season is beginning due to the improvement in weather and I advise all riders to check the condition of their bikes before starting their journey.''
More tips are available via the Department of Transport's dedicated road safety website THINK! at think.direct.gov.uk/
Copyright © Press Association 2012.