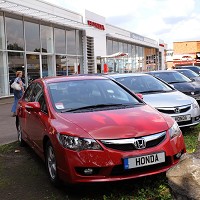 The Jubilee celebrations and the Olympics may be getting a lot of the nation excited but they are likely to have a negative effect on the used car market, according to research.
London 2012 and the Queen's Diamond Jubilee, combined with the usual summer holiday season, are likely to divert attention away from the business of buying cars and British Car Auctions is predicting a significant slump in demand.
The BCA's communications director is expecting a "fragile" period in the coming months but that could make it a good time to get a great deal as used car prices continue to fall.
"We are now in that period of the year when demand can be a little more fragile as families budget for the looming summer holidays," explained Tony Gannon.
"And there are a lot of distractions ahead - the Diamond Jubilee, the London Olympics, even the European Football Championships - to divert attention away from the business of buying and selling cars."
The BCA's latest Pulse report noted that used car prices have already fallen by 6.2 per cent in April and telephone call tracking experts Mediahawk have now warned dealers that the Jubilee celebrations in June could cause as much as a 20% drop in business enquiries.
The slump could make it a perfect time to snap up a bargain motor, with any savings made able to ploughed into finding the best car insurance around.
At the recent ASE/MotorTrader Financial Conference, dealership managers were advised to ensure their servicing departments run at full capacity as buyer footfall will almost certainly dip during the European Championships, Olympics and Jubilee periods.
Copyright © Press Association 2012