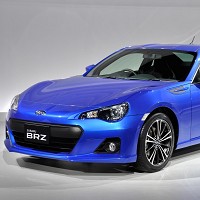 Japanese car giant Subaru has released details of its latest sports car, with UK prices set to start at £24,995.
The Subaru BRZ, which has been hotly anticipated by car lovers around the world, will be made available in two trim specifications, the SE and the SE Lux, with two further gearbox options.
The automatic gearbox, which costs £1,500 more than the manual equivalent, dramatically cuts the amount of dangerous gases emitted by the car.
Among the equipment included as standard on both models are alloy wheels, limited slip differentials, dual-zone air conditioning, keyless entry and iPod connectivity.
With the extensive list of equipment included as standard, a number of observers have pointed out that there is little to separate the SE from the SE Lux apart from leather upholstery and a £3,000 price jump.
Copyright Press Association 2012