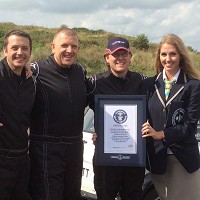 A stunt driver famed for pulling off the world's tightest parallel park has added two more records to his CV.
Alastair Moffatt broke the world records for the smallest gap driven through on two wheels, as well as the tightest triple parallel park - a feat he pulled off with the help of his brothers Trevor and John.
Alastair, who is an instructor at a stunt drive centre, managed to squeeze a Daewoo Matiz on two wheels through a space just 46cm wider than the height of the car.
The daredevil stunt was filmed for CBBC's TV show Officially Amazing. The triple parallel park saw three Minis driven at speed into a space between two stationary cars, with a total gap of just 60cm.
Alastair said that the two-wheeled record was the hardest to attain. He said that a cross-wind made the car wobble when it was on two wheels, making controlling it even harder.
Alastair's full-time job as a Master Instructor at Stunt Drive UK sees him teach tricks and stunts such as high-speed parallel parking, J-turns and driving on two wheels.
Copyright Press Association 2015