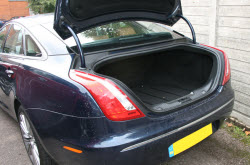 Luxury cars have a few pre-requirements if they are to hold their heads up against prestigious rivals.
Comfort, stretch-out space, rapid but lazy performance. And, of course, they need the visual impact that says you are a success in life.
Increasingly though, one area where they all seem to have trouble is providing you with a satisfactory place to put your luggage. Over the past couple of weeks I have been driving three cars, none of which met my expectations.
The new Jaguar XJ and Audi A8, along with the current Mercedes S-Class with its new low-CO2 engine, each has its issues. The Jaguar's boot opening is simply too small from top to bottom. The Audi has so much electronic gear for its supremely complicated control systems that the space behind the rear seats suffers.
Only the older Mercedes offers a half-way decent solution. But even here you can't stand medium sized cases edge-to-edge. Laying them flat is fine, but you'll struggle to get more than two large cases in before you are into packing smaller bags in the gaps.
The manufacturers all come up with figures to prove I am wrong. My argument is that it's not just about volume, it's as much to do with the shape. Blame the desire for stiffer body structures. They are safer, certainly, but something has been lost along the way here, too.
Links
Car reviews - http://www.rac.co.uk/car-reviews/search