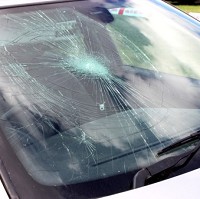 A number of strange items have been responsible for damaging the windscreens of cars in the UK, according to a new survey.
The research, which was carried out by Autoglass, found that motorists reported damage being caused by a range of objects from cricket balls, kitchen knives and sand to a stack of shelves, CD cases and even deer hooves.
The incident with the deer, which survived, occurred when the animal leapt out of the way of another car, and Autoglass managing director Matthew Mycock said sometimes the explanations for cracked windscreens can be unusual.
"Our technicians are always ready to deal with the unexpected, but even they are sometimes surprised by the calls they receive," he said.
"The UK's potholed and congested roads don't make things easy for motorists but sometimes vehicle and glass damage is self-inflicted or the result of freak occurrences."
Drivers have also cracked their windscreens by using the likes of CD cases and kitchen knives to clear ice, and one motorist smashed the back windscreen with a stack of shelves after cramming too much into his car.
One respondent said his windscreen had been sandblasted after a day at the beach, while another saw a cricket ball hit his and one person even claimed that his car had been struck by a low-flying UFO.
Copyright Press Association 2013