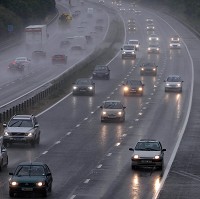 Britain is bracing itself for strong winds and torrential downpours, as the Met Office predicts a bad start to the week.
Yellow weather warnings have been issued for Wales, the West Midlands, London, the south east and the south west, meaning potentially difficult driving conditions.
Debris on the roads could be a problem for motorists, while extra care needs to be taken when driving in exposed areas, such as high bridges, or overtaking high-sided vehicles, as winds hit speeds of up to 45mph inland.
Gales could even possibly exceed 50mph in coastal areas, warns forecaster Dean Hall.
Rain will continue in the far north of England and southern parts of Scotland, while showers, including thundery ones, are expected to be slow-moving across northern and eastern parts of England.
Surface spray is likely to be an issue, causing reduced visibility on the roads.
Motorists should keep extra distance between themselves and the car in front, increasing the two-second rule to three seconds or more.
While winds in the south will generally ease on Tuesday, Mr Hall says it will still be breezy.
With low pressure moving in from the Atlantic, the Met Office warns of more unsettled conditions.
It has been suggested that the weather will be changeable from now until August, and potentially beyond.
Copyright Press Association 2015