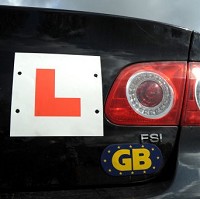 New proposals aimed at reducing the number of car accidents involving young people could see probationary licences issued from 18, rather than 17.
The Government is examining plans which would see drivers having a 12-month 'learner stage' where they would have to get at least 100 hours of daytime and 20 hours of night-time experience behind the wheel while being supervised.
Only after the 12 months is complete could the individual apply for a test.
The proposals, which were drawn up by the Transport Research Laboratory, also suggest that newly-qualified drivers would have a curfew between 10pm and 5am unless they were carrying a passenger aged over 30.
There would also be a ban on having a passenger under 30 if the driver would be under that age themselves.
A DfT spokesman said: "Young drivers drive around 5% of all the miles driven in Britain, but are involved in about 20% of the crashes where someone is killed or seriously injured.
"We are committed to improving safety for young drivers and reducing their insurance costs - that is why we are publishing a Green Paper later in the year setting out our proposals.
"This will include a discussion about how people learn to drive.
"The research report has been produced by the Transport Research Laboratory under commission by the Department for Transport and it, amongst other things, has informed the Green Paper."
Figures show that over a fifth of road deaths in Britain in 2011 involved drivers aged between 17 and 24, with about 10% of novice drivers caught committing an offence within their probationary period.
These figures explain why car insurance for young and new drivers can be so expensive.
Copyright Press Association 2013