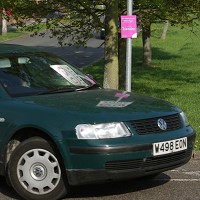 Stressed out drivers are putting themselves at risk by getting behind the wheel when they are feeling anxious, according to a new survey.
The poll, by car insurance company Admiral, found that more than three in ten motorists drive more erratically when they are feeling stressed. However, the findings also revealed that 44% took the car out in a bid to make themselves feel less stressed.
As much as 45% of the 3,000 drivers questioned admitted that being stressed at the wheel made them more likely to lose concentration.
More than half (56%) of drivers said they get in the car while worried about something, with the same number reporting that this can result in them feeling road rage.
Figures also showed that motorists are more likely to drive aggressively when stressed, with 23% admitting to this, compared to 12% who say they drive faster than usual and 6% who drive more slowly.
Sue Longthorn, managing director at Admiral, said: "The results of our survey highlight the impact general everyday stress has on your driving, so it's important that people are aware of this and how to lessen this impact."
Copyright © Press Association 2009