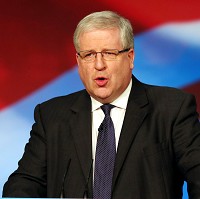 The Government has offered councils the incentive of awards in a bid to make street signs easier to understand and more pleasing on the eye.
Transport Secretary Patrick McLoughlin has revealed the Government will hold a ceremony in June to recognise councils that have removed confusing signage.
The prizes form part of an initiative to reduce the number of signs which blemish cities, towns and countryside across England.
While a lot of local councils have taken steps to clean up the sides of their roads, the Government believes more can be done to put an end to old and puzzling signs.
Mr McLoughlin said unnecessary signs stain England's landscape, confuse drivers and are an avoidable expense.
"This new award is about recognising and showcasing the good work being done by local authorities across the country and I urge councils who are taking action to tackle this problem to put themselves forward," he said.
"I want these examples to inspire other councils to improve their streets and public spaces."
The Government will reward local councils that show they have taken the necessary steps to ensure their roads are free of clutter.
Copyright Press Association 2013