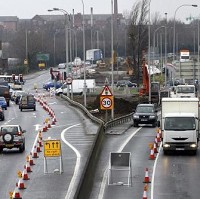 Drivers, cyclists and pedestrians in certain parts of Northern Ireland face the prospect of having to travel on unlit stretches of road this winter, a minister is warning.
Roads minister David Kennedy says the £15 million worth of budget cuts his Department for Regional Development is having to make means it will not be paying private contractors to repair broken street light, unless they're posing an obvious electrical hazard to the public.
Mr Kennedy says the situation could result in tens of thousands of street lights being out of operation over the dark winter months, although an in-house contractor will strive to keep the road network in safe working order.
Meanwhile, Mr Kennedy says the budget cuts and a failure for a political agreement to be reached on the implementation of the Coalition's so-called bedroom tax in Northern Ireland means he has also had to stop approving pothole repairs, the maintenance of traffic signs, grass cutting and gully emptying.
Copyright Press Association 2014