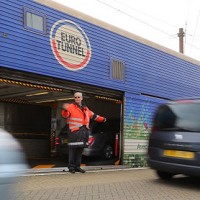 The surprise discovery of a stowaway in a woman's vehicle has sparked a warning by Eurotunnel chiefs for motorists to be vigilant when they leave their car.
Drivers setting their journey planners to the tunnel have received this plea following Sue Taber's experience.
Ms Taber, from Shepherdswell in Kent, returned to her vehicle after checking her dogs in at Calais to find a male in the back of the car.
The 59-year-old Eurotunnel passenger says that she instantly rang the police as she was frightened and called the incident "unbelievable". Ms Taber says she felt something nudge her back and discovered the man.
Eurotunnel insists that its Calais site is "extremely secure". But the firm's John Keefe says that people should always be alert on leaving their car.
A man has been detained and is being handled by immigration officers.
The episode comes after migrants failed to storm a ferry heading to the UK from the same French port.
Copyright Press Association 2014