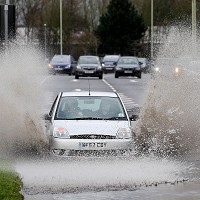 Strong winds and heavy downpours are threatening to cause chaos on Britain's road and rail networks as people head home for Christmas.
Several severe weather warnings have been issued for parts of the country until Christmas Eve morning when the worst of the weather will have gone, with forecasters expecting localised flooding in the south of England and Wales.
The Met Office predicts wind speeds could reach 80mph on the south coast of England while a cold snap in Scotland will bring sleet and snowstorms and icy conditions on the roads.
Train delays and cancellations are expected to be widespread and many operators are working with bus firms to provide replacement services. Network Rail said many operators are advising travellers to make the journeys as early as possible on Monday or even delay them until Christmas Eve.
There will be plenty of water on the roads and drivers are being advised to steer clear of flooded routes to avoid breakdowns. The Environment Agency said people should keep a close eye on its flood forecasts and keep off resort promenades in the windy conditions.
There were flood warnings in place on Monday morning and 73 other alerts, most in the south of the country.
Sarah Rice, spokeswoman for the RAC, said: "The combination of strong winds and heavy rain poses particular hazards for motorists, including driving through deep standing water, debris on the road and difficulties controlling a vehicle in exposed areas. And, of course, it's set to be busy with people heading home for Christmas, which could cause problems of its own, such as congestion.
"We anticipate a traffic volume increase of 10%-15%, especially on Christmas Eve and Boxing Day, so preparation before you set out on your journey is key."
A range of winter weather driving advice is available on theRAC website .
Copyright Press Association 2013