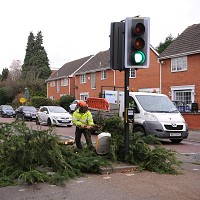 Drivers are being urged to take extra care on the roads as heavy rain and gale force winds have returned to the UK.
Just days after the last storm caused Christmas misery for tens of thousands of people, a new storm is expected to sweep across the country.
Northern England and northern parts of Wales will be worse hit, the Met Office has warned, with winds of between 60mph and 80mph.
Several yellow and amber weather warnings are already in place, indicating "severe or hazardous weather" with the potential to "cause danger to life or widespread disruption".
A 109mph gust of wind was recorded in Aberdaron, west Wales, in the early hours of Friday morning.
Police have therefore told drivers to drive with "extreme caution" as trees are blown into the roads by ferocious winds.
There is particular concern for high-sided vehicles, which are at risk of being blown over in the blustery weather.
"Many trees down due to strong winds," wrote Cheshire Police on Twitter. "We would ask all drivers to exercise extreme caution whilst driving tonight."
People shouldplan their journey carefully before leaving the house, looking out for road closures and high-risk routes.
Copyright Press Association 2013