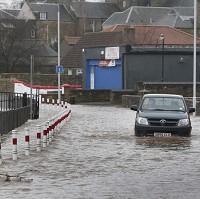 Motorists in Scotland are being urged to plan ahead as heavy rain is forecast for large parts of the country.
The Met Office has issued an amber "be prepared" warning of persistent rain covering central and southern Scotland for much of Wednesday.
Dumfries and Galloway, the Scottish Borders and parts of Strathclyde and Tayside could all be badly affected by Storm Frank, which may cause some localised flooding, forecasters say.
RAC Traffic Watch spokesman Rod Dennis said: "The arrival of the third storm this month will again mean motorists need to be braced for challenging conditions on the roads. Traffic levels on major routes in the run up to the new year should be relatively light, but the combination of very wet and windy weather, especially in the north and west of the UK, will mean drivers need to take extra care.
"Our patrols are working hard to assist members throughout the festive period, but there are a few simple things that every motorist can do to lessen the chances of breaking down - it can really pay to quickly check things like the condition of windscreen wipers, tyres and oil and washer fluid levels before setting out.
"We also recommend motorists plan their journeys carefully, allowing extra time as necessary, and are prepared to change their route if weather conditions deteriorate - especially with a threat of further flooding in some areas."
Scottish transport minister Derek Mackay is advising all road users to take the conditions into account and plan their journeys in advance with the latest information, and factor in extra time as travel may take longer than usual.
Police patrols will be in place on the main routes to try to keep the roads running, while maintenance teams will be out on the network to clear drainage systems in advance of the heavy rain, says Mr Mackay, who is urging motorists to listen to police advice.
A yellow ''be aware'' warning for wind has also been issued for much of Scotland and North West England today.
According to the Met Office, a "waving cold front" is expected to become slow moving over western Britain during Tuesday night and for much of Wednesday, associated with a "strong, moist south-westerly airflow".
Rainfall accumulations through this period are expected to be widely 20-40mm (0.8-1.6in), with 80mm (3.2in) over some higher ground within the area, and the potential for some exposed locations in south-west Scotland to receive 100-150mm (4-5.9in).