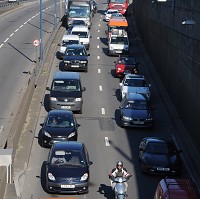 Two organisations from different ends of the motoring industry, Castrol and Tom Tom, are combining to build a report on "stop-start" driving patterns in 50 major world cities.
Due to be published in September, the report builds on previous studies that claim we can experience as many as 18,000 stop-starts every year.
The pioneering new study will aim to look at different regions, using Tom Tom's precise travel and traffic information, to analyse driver behaviour across the entire road network.
Gareth Bracchi, senior development technologist at Castrol commented that stop-start and idling traffic is important as it affects journey times and causes engine wear.
He added: "By partnering with TomTom, we'll be able to accurately measure the stop-start average per kilometer within defined city limits, discover what cities have the heaviest traffic, and show which city's drivers are most at risk of damaging stop-start wear."
This could have a knock-on effect on car insurance and breakdown cover costs per region.
The 50 key cities and regions across the world where traffic conditions will be monitored, include North America (New York), Australia (Sydney), Asia (Beijing, Bangkok, Jakarta, Kuala Lumpur), Russia (Moscow), Brazil (Rio de Janeiro) and Europe (London, Istanbul) and Hong Kong.
Ralf-Peter SchŠfer, Head of Traffic at TomTom, claims that the principal of making the lives of customers run smoothly is shared by both Tom Tom and Castrol, and hence the partnership makes sense.
He added that the company looks forward to sharing the findings of the study.
Copyright Press Association 2013