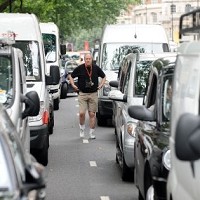 Driving to work is bad for your waistline, a new report suggests.
Not using your car for work could not only drive down your car insurance premiums, it could also lose you a maximum of seven pounds (3kg).
This is the claim of London-based researchers, who claim their results may have key implications for future health and transport policy.
Their study of over 15,000 employees finds that workers who don't use their motor and walk, cycle or use the train or bus to the office have much lower body mass index (BMI) rates.
Men leaving their vehicles in the garage experience a typical BMI rating a full one point - or identical to 3kg - under counterparts who motor to work.
Women who don't drive to their office have an average BMI score which is 0.7 points below that of car commuters.
The study, by teams at the London School of Hygiene and Tropical Medicine and University College London, is published in the British Medical Journal.
Scientists hope the research could help persuade more workers to choose the healthier option of commuting.
They say that people outside of London who cycle or walk to the office has kept "stubbornly low" in the last 10 years.
Copyright Press Association 2014