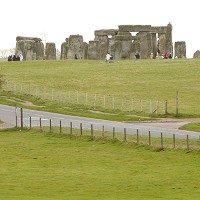 Nearly one third of UK motorists have had a minor accident or narrowly avoided one because they could not keep their eyes off the country's stunning natural scenery or man-made attractions such as Stonehenge.
Britain is full of fantastic sights to behold, but admiring the view while behind the wheel of a moving vehicle is the last thing drivers should do.
A OnePoll survey found that 34% of drivers have been distracted by views and either been involved in a near miss or suffered a minor accident resulting incar insurance claims or the need for breakdown assistance.
The view it found was the most likely to do this was Stonehenge. Over a quarter (26%) of those surveyed said the prehistoric landmark of stone circles had distracted them into dangerous situations.
It is thought that the monument takes drivers' eyes off the road up to three times as they go past at an average of 3.74 seconds each, meaning they could be driving some 200 metres along the road while not paying any attention to it and other vehicles.
Copyright Press Association 2012