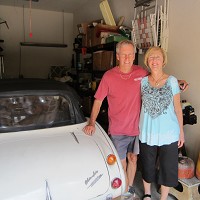 A man has finally been reunited with his beloved sports car 42 years after it was stolen, after noticing it up for sale on eBay.
The 1967 Austin Healy was taken from Robert Russell's house in Philadelphia back in 1970. The 66-year-old has now driven all the way to Los Angeles with his wife, Cynthia, to reclaim it from a Beverly Hills dealership after spotting it on the auction site.
The retired sales manager from Southlake paid $3,000 (£1,919) for it originally but it is now worth around $23,000. He said he is delighted to have it back because it has sentimental value, as it was stolen the day after his second date with his wife.
"The fact that the car still exists is improbable," he said.
"It could have been junked or wrecked."
Mr Russell told the Los Angeles County sheriff's officials that he had never given up hope of finding his treasured sports car and often scoured the web in search and, despite the fact that the brakes aren't the best, he plans to restore it to its former glory.
"It still runs, but the brakes don't work well," he said.
"We're going to put it back the way it was."
Copyright © Press Association 2012