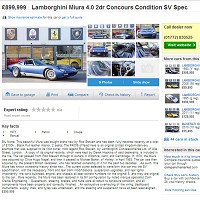 Car collectors are being offered the chance to purchase a rare Lamborghini over 40 years old and once owned by Rod Stewart.
The two-door Lamborghini Miura P400S has been put on the AutoTrader website for £899,999 by Lancashire-based Amari Supercars.
When Stewart bought the car in 1971 it was the fastest car in the world, accelerating from 0-60 mph in 6.7 seconds and reaching a top speed of 171mph. He sold the car five years later to a private buyer.
The blue sports car with silver trim - one of only 338 produced - is in a pristine condition, having recently undergone a £100,000 restoration.
An AutoTrader spokesman said: "An old classic like this is rarely seen on the market now and particularly in such good condition for its age; all the love and attention has clearly kept it performing. This is a great investment if you do have £900k in your account."
Other famous owners of a Lamborghini Miura include Frank Sinatra and Miles Davis.
Copyright Press Association 2014