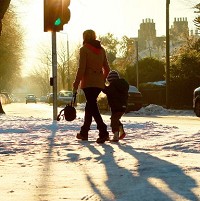 Schools and parents are being urged to get their children walking to help teach them about road safety.
Some 45,000 pupils from more than 200 schools are already registered for road safety charity Brake's annual Giant Walk.
But the organisation is calling for even more schools to take part in the event on June 10.
Schools can use the walk to highlight the need for motorists to slow down and drive more carefully, and to call for safety measures on surrounding roads.
Classroom lessons during the day, meanwhile, can be tailored around road safety issues and the benefits that walking or cycling to school can bring. Science lessons, for example, can study the forces involved in road accidents while geography classes could look at how pupils get to school in other countries.
Money raised by the event is used by Brake to fund the work it does with people who've been affected by a death or serious injury on the roads.
Copyright Press Association 2015