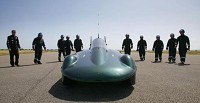 A team of motoring enthusiasts has travelled to Edwards Air Force base in California in a bid to break the world land speed record for a steam-powered vehicle.
The team behind the 25ft-long British Steam Car are hoping to smash the century-old record of 127mph reached by American Fred Marriott by powering the car to its target velocity of 170mph in the sweltering heat of the Mojave desert.
The car - nicknamed "the fastest kettle in the world" - is powered by 12 boilers containing nearly two miles of tubing through which superheated steam is injected at more than twice the speed of sound.
Team manager Matt Candy said: "There's a lot of work to do before we can make the record attempts.
"We have to set up our communication system, check the radios, assemble the fuelling rigs, unpack the tools, get the fridge working and put the toilet in place."
It appears that the crew may have history on their side as they take to the sands as driver Charles Burnett III is the nephew of legendary motoring patron Lord Montague of Beaulieu, while test driver Don Wales is the nephew of the late speed ace Donald Campbell.
Copyright © Press Association 2009