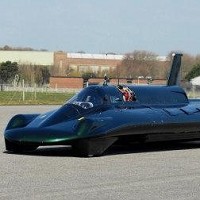 A steam supercar built in Britain is on course to break a world land speed record that has stood for more than a century.
Enthusiasts from Lymington in Hampshire built the 25ft steam car which exceeded the world record for steam-powered vehicles of 127mph in an unofficial test. The team will attempt to break the record at the Edwards Air Force base in California and reach a target of 170mph in August.
The team`s vehicle has reached speeds of more than 131mph in a total of four tests run in the US since July and the Federation Internationale de l'Automobile (FIA) will record the team`s attempt to break the world record between August 18 and 22.
The British Steam Car is made from aluminium wrapped around a steel space-frame chassis and lightweight carbon-fibre composite sections. The car has 12 boilers which contain almost a dozen miles of tubing and the burners can produce three megawatts of heat.
The current world record was set by America`s Fred Marriott, who was driving a Stanley steam car, in 1906 at the Daytona Beach Road Course. It is the longest standing officially recognised land speed record.
Copyright © Press Association 2009
www.steamcar.co.uk/ (The British Steam Car Challenge)