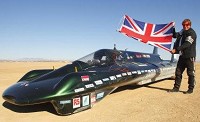 A steam-powered supercar built in Britain has broken the world land speed record for steam vehicles - 103 years after the last record was set.
Nicknamed "the fastest kettle in the world" the British Steam Car managed an average speed of 139.843mph over a measured mile at an American air base.
This smashed the previous world record of 127mph in 1906, set by American Fred Marriott driving a Stanley steam car.
The 25-foot vehicle, created by a team in Lymington, Hampshire, was driven for two runs by American millionaire Charles Burnett III. He reached top speeds of 136mph on the first run and 151mph on the second, according to a team spokesman.
Mr Burnett said: "It was absolutely fantastic. I enjoyed every moment of it. We reached nearly 140mph on the first run before I applied the parachute.
"All systems worked perfectly, it was a really good run. The car really did handle beautifully.
"The team has worked extremely hard over the last 10 years and overcome numerous problems.
"It is a privilege to be involved with such a talented crew. What we have achieved is a 1 testament to British engineering, good teamwork and perseverance."
Copyright © Press Association 2009