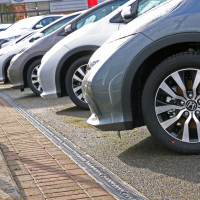 Sales of new cars grew by 2% in April compared with the same month last year, according to the Society of Motor Manufacturers and Traders (SMMT).
A total of 189,505 cars were registered last month - the most in April since 2003 - with growth led by the fleet and business sectors, which increased by 6.1% and 2.8% respectively.
Consumer confidence remains high as buyers continue to capitalise on attractive finance deals. However, this could be affected by political and economic uncertainty in the coming months, the SMMT warns.
April's steady performance follows a bumper March in which more than half a million cars were sold, the second-biggest monthly total on record.
Mike Hawes, the SMMT's chief executive, says the results were to be expected after such a strong March, and are in line with predictions for the year.
Volkswagen continued to suffer in the wake of its diesel emissions scandal, with a 9.7% dive in year-on-year sales.
The German manufacturer had 16,877 registrations in April, compared with 18,690 in the same month in 2015. Sales for 2016 are 6% down on this stage last year.
Last September, Volkswagen Group admitted that 482,000 of its diesel vehicles in the US were fitted with defeat device software to switch engines to a cleaner mode while they were being tested for emissions.
Around 11 million vehicles worldwide were affected, including almost 1.2 million in the UK.
Other VW brands saw mixed results for April. Audi's year-on-year sales were up 3.1%, but SEAT was down 0.7%, and Skoda dipped by 1.1%.