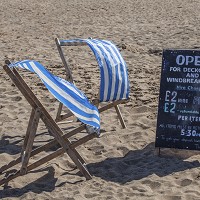 The August bank holiday weekend is likely to be a busy one on the roads, as thousands of us enjoy staycations.
Major routes around seaside locations are expected to be among the busiest, according to online travel website Trivago, which compiled a list of the top 50 destinations based on searches for Friday 28 to Monday 31.
Blackpool, Bournemouth and Brighton feature highly, as do Skegness, Whitby, Weymouth and Newquay.
But hotels on the coast are filling up as the extended weekend approaches. Skegness is fully booked, says the hotel search site, while Whitby and Weymouth both have just 1% of rooms left. Newquay has 4% availability.
Prices in Skegness and Weymouth are up by 9% on the monthly average this bank holiday to £98 and £72 per night, respectively, yet a stay in Whitby is still £101. The cost of a room in Newquay has fallen 15% from £124 to £106.
In comparison, prices in city destinations have rocketed ahead of the three-day weekend.
Liverpool has seen prices jump by 47% from an average of £86 per night during August to £126, while Manchester has seen prices leap 32% to £125.
Three in four searches were for a hotel in the UK, with 12 of the top 50 destinations on the coast.
Copyright Press Association 2015