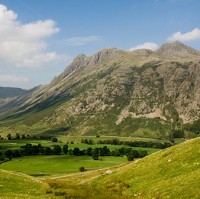 More people are planning a staycation in Britain this year than last.
Some 41% of British adults say they plan to holiday in Britain this summer, an increase of 6% on last year.
These figures come from a survey of 5,000 British adults conducted by Travelodge, who say that number of people staying in the country will give the tourist industry a boost of £1.5 billion, up to 8.7 billion.
The survey found that the most popular British holiday destination for staycations is Cornwall, followed by Edinburgh and the Lake District.
Of those planning their holiday, just under half (49%) are intending to book at the last minute because of tight finances, while nearly two-thirds (65%) are making significant sacrifices so that they can afford to have a holiday. The average holiday price, according to the survey was £433.47 for a week - an increase of £10.78 on the year before.
While holidaying in England tends to be cheaper and hold less risks than a foreign holiday, holidaymakers should look into breakdown cover to ensure that accidents and breakdowns don't ruin their holiday.
Copyright © Press Association 2012.