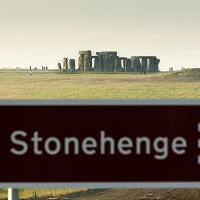 Why go on holiday abroad when there is so much to see in Britain?
That's the view of many 'staycationers' who are expected to jump in their cars and spend more of their money at UK attractions over the next few years.
A new Barclays poll suggests the amount of money generated by domestic tourism will grow by a quarter to over £108 billion in the next three years.
This will inevitably lead to a rise in domestic journeys by both car and public transport, with possible implications on the motorway network.
It is suggested, however, that the benefits are not likely to be shared evenly around the country, with the south of England expected to see the biggest increase in popularity. The survey predicts that around 16% of the extra money will be spent in London and around 12.9% and 12.2% will change hands in the south east and the south west of England respectively.
North east England will see just 3% of the increased takings while 5.8% of the spending will be in the West Midlands, according to Barclays.
Staycationers will spend 26% more cash in restaurants and pubs, it claims.
Barclays' head of hospitality and leisure Mike Saul believes the resurgent economy will lead to a small increase in people heading abroad for holidays, but domestic tourism will grow at a faster rate.
Copyright Press Association 2014