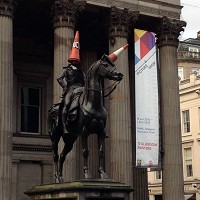 Council bosses have scrapped plans to stop revellers putting traffic cones on the head of a famous statue in Glasgow.
Proposals to raise the Duke of Wellington monument onto a 6ft plinth to deter people from tampering with it have been abandoned following an outcry from residents.
Glasgow City Council wanted to spend £65,000 on refurbishing the statue. It said the cones project a "depressing" image of the city.
But more than 10,000 people signed an online petition saying the cones have become an "iconic part of Glasgow's heritage".
A Facebook page set up to "save the cone" has also had 45,000 likes.
The statue, which stands outside the Gallery of Modern Art in Royal Exchange Square, was sculpted by Italian artist Carlo Marochetti. It was erected in 1844 to mark Napoleon's defeat at Waterloo.
For decades, students and other revellers have been placing orange traffic cones on the Duke's head, making it an near-permanent feature of the statue.
The council claims it costs £100 to remove a cone each time.
Despite this, campaigner Michael Gray said he is glad that the plans had been dropped.
He said: "I think it was a big mistake; 45,000 people have liked a Facebook page campaign to save the cone from the council's decision and there was no consultation. It was just taken from on high by the council but we're happy now that they've backed down."
Copyright Press Association 2013