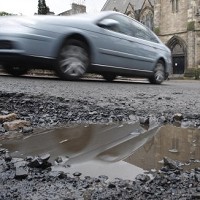 British drivers are more concerned about local roads than any other motoring issue, according to the RAC Report on Motoring 2015.
The 27th edition of the major annual study asked 1,555 drivers for their views on all things roads - finding that half (50%) think the state of their local roads has deteriorated over the last 12 months alone.
The RAC says the problem is likely to get worse and may hold back economic and social growth, adding that the Government's present approach is unsustainable.
Ministers have dedicated £6 billion towards repairing English roads over the next six years. The Asphalt Industry Alliance estimates that nearly double that amount (£11.5 billion) is needed to return them to a "reasonable" condition.
5 key findings from this year's study:
- Drivers from South-West England and Scotland fret the most about road conditions: nearly one in five (19%) rank this as their main worry
- Londoners seem generally more upbeat about their roads: only three in 10 say their highways have worsened in the past year. Village and countryside-dwelling motorists are doubly dissatisfied, with 59% saying their highways have deteriorated
- Pothole pitfalls: of the 50% of car owners who claim their roads have become worse, 99% put this down to potholes, as well as general road surface damage. Drivers who fall foul of potholes lodge thousands of car insurance claims every year
- One in three respondents wants the Government to spend more of its transport spend on local road maintenance than anything else: in second place comes local road targeted upgrades, including those aimed at reducing bottlenecks and enhancing safety
- Road maintenance should be a local council spending priority: only education should top local road maintenance when it comes to council spending
David Bizley, the RAC's chief engineer, says: "Motorists clearly want the Government to provide sufficient funding to ensure local roads are maintained properly.
"But while any central government money given to local authorities for roads must be spent on roads, we also need councils to spend more of their own funds on repairing and replacing road surfaces.
"Currently, this is a challenge as they are under specific legal obligation to provide minimum standards in education and social services whereas their obligations to maintain roads are far less prescriptive.
"It is therefore inevitable that expenditure is biased against investment in the likes of road maintenance where prescriptive legal obligations do not exist and councillors therefore do not face legal sanctions.
"This significant and damaging disconnection between what a large proportion of council tax payers want local government to spend their money on and where it is actually going is at least in part a result of the inconsistent way in which central government devolves spending decisions to local authorities.
"While the RAC is generally supportive of devolving decisions on local roads to local authorities there needs to be a level playing field for this to work.
"This means legal obligations on councils need to be equally prescriptive - or non-prescriptive - for all types of expenditure.
"The Government has taken bold steps to ensure that the strategic road network in England is fit for purpose and is capable of supporting economic growth by the implementing a Roads Investment Strategy and ring-fencing vehicle excise duty to fund the maintenance and development of the network from 2020.
"Equally, bold and imaginative action is now required to address the deficiencies in local roads as funding from central government is insufficient even to address the current backlog of repairs and local authorities are currently unable to fill the gap from council tax revenues."
Mr Bizley went on: "It is a measure of the problem that we still talk about success in terms of the number of potholes we can fill.
"However, most potholes develop because of a lack of preventive maintenance.
"We urge the Government to follow the recommendations of the Coalition Government's Pothole Review to ensure that the funds allocated to local roads maintenance are used for preventative maintenance of roads rather than just on short term remedial repairs."
Copyright Press Association 2015
ww.rac.co.uk/insurance/car-insurance/ (car insurance)