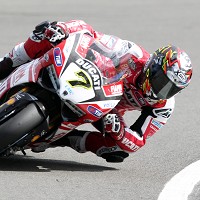 Comedian Alan Davies may be backing a new campaign on road safety for motorcyclists - but he insists the issue is no laughing matter.
The QI star has teamed up with World Superbike racer Chaz Davies to help promote the new THINK! road safety campaign, which aims to encourage riders to join a training course to help enhance their skills and road sense.
The message is being promoted due to the high proportion of motorcyclists killed in road traffic accidents: bikers make up just 1% of total road traffic but account for 19% of all deaths among road users.
The latest statistics show that 331 motorcyclists were killed on British roads in 2013, while 4,866 were seriously injured. Although that total is smaller than five years earlier, it is hoped the extra training will reduce the number even further.
The Institute of Advanced Motorists and RoSPA are working with THINK! to help deliver the campaign, which has seen Chaz's riding skills judged by a team of assessors. Short films of the results are due to be posted online.
Alan also took the tests, with the scrutiny of the road safety experts providing a different proposition for the comic whose usual audiences might be a little less difficult to please.
Copyright Press Association 2014