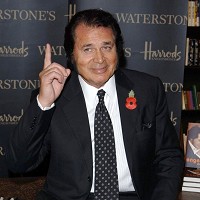 Pop legend Engelbert Humperdinck has launched a search to trace a rich mystery man who offered to buy his personalised car number plate for £2 million.
The 'Release Me' singer described being approached by "a very nice man from the UAE", at the Savoy Hotel restaurant in London.
It soon became clear that the man, who shares the same initials as Humperdinck, had his eye on the star's licence plate, which reads 'EH1'.
The 76-year-old crooner, who represented the UK in this year's Eurovision Song Contest, was in London to finish recording his new studio album.
Humperdinck agreed to consider a sale, taking a card with the contact details of the stranger, but later realised he had lost it. The singer now wants to track him down to close the lucrative deal.
"His surname was Hussein and obviously his initial must have been E," Humperdinck said.
"So I am asking that, if anyone knows Mr Hussein, can they please contact my London-based record company, Conehead UK, as he had talked me into making the sale and I don't want to disappoint him."
Copyright Press Association 2012