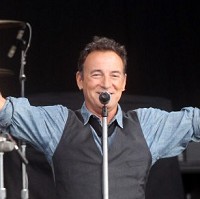 A parking ticket stuck on one of rock star Bruce Springsteen's tour trucks in Leeds will not have to be paid.
It was issued by a council enforcement officer as The Boss's equipment vehicles were left outside Leeds Arena while the singer-songwriter and musician prepared to play the first gig at the new venue.
But the City Council, which heavily promoted the concert, has since rescinded the ticket, meaning no fine will have to be paid.
A picture of the moment when the ticket was issued quickly circulated the internet, causing a stir among social networkers.
Despite what some people may say, parking tickets do not affect car insurance premiums.
Providers are only interested in criminal offences, such as speeding or drink driving.
Springsteen's sell-out appearance may have been the first at the new £60 million venue but the official opening of the 13,500-seat arena will not be until September, when Sir Elton John plays.
Copyright Press Association 2013