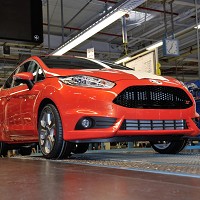 Motorists will be able to buy the new Ford Fiesta ST in a few months' time after mass production began in Germany.
The new model, available in the UK in late March or early April at a cost of £16,995, will be able to accelerate from zero to 62mph in less than seven seconds.
Environmentally conscious consumers will be pleased to discover that the car averages 48mpg on the European combined fuel economy scale, which means that motorists could save on fuel and have more money left over for other car-related costs such ascar insurance .
Cost-conscious motorists will further revel in the fact that the new Fiesta will be more affordable to tax than other cars as its CO2 emission level is rated at 138g/km. This puts it in the E road tax band, which is currently set at £120 per year.
The car's 179bhp turbo-charged 1.6 litre petrol engine has a feature that allows it to produce around 200bhp for a limited time - ideal for short, sharp bursts of acceleration.
Ford hopes to sell more than 5,000 of these cars every year in the UK.
Copyright Press Association 2013